When given the once in a lifetime chance to perform an experiment in zero gravity, guess who would step up and take it!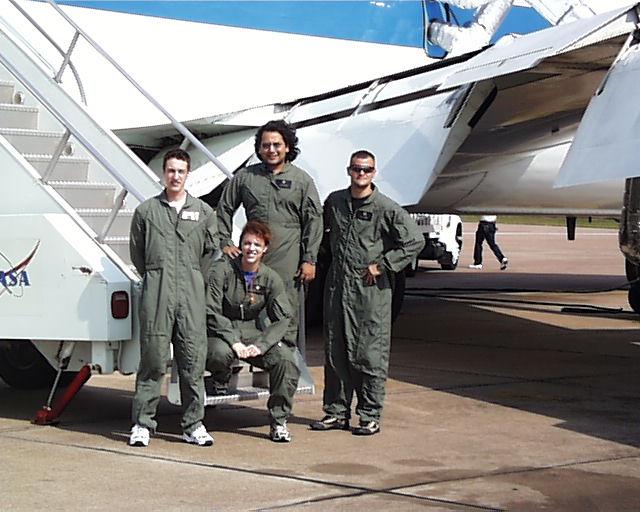 Daniel, Heather, Me and Zach
Our experiment was to test dropper bottles performance in microgravity. These bottles have been used in all space missions since the Apollo program. The Brainiacs at NASA failed to do one thing. They never tested these bottles before.

Our group had to design this experiment from scratch. Our NASA mentor, Dr. Charles Loyd, would meet with us weekly to ensure we kept KISSing (Keep It Simple ...) the project . Our group had a tendancy to make the simplist tasks very tedious.

Part of my experiment failed during flight. We went to major extremes to think of anything that could go wrong. We failed to take into account the air in our Afrin bottles would expand. This is after we spent a whole day learning about the effects of high altitude atomosphere had on gases. DUH! I felt like such a goof!

Besides that, everything went perfectly. I discovered that I do NOT want to go into research for chemistry. I love the subject, but there is no way I could do everything I had to do to get a PhD without killing myself out of boredom. I hold anyone with a chemistry PhD in the highest regard.